Healthy Recipes
Subscribe to posts
PROTEIN BROWNIES 
Ingredients 
1 cup / 2.6 oz / 74 gr protein powder (either unflavored or vanilla)
¼ cup / 0.8 oz / 22 grams oats, ground
8 oz / 225 gr +70% dark chocolate, coarsely chopped
½ cup / 4 oz / 113 grams coconut oil (or butter)
1 cup / 7.75 oz / 220 gr firmly packed brown sugar (or baking Splenda®)
2 teaspoons vanilla extract
4 large eggs (or flax eggs or 8 egg whites)
½ teaspoon salt
½ teaspoon baking powder
1 teaspoon espresso powder (optional, to enhance chocolate taste)
Directions
Preheat oven to 350°F (180°C), place a rack in the upper third of the oven. Lightly grease a 9×13-inch baking pan. Line the pan with foil and grease the foil. This will help you remove the brownies.
Whisk together protein powder, ground oats, baking powder and salt and set aside. 
Place coconut oil (or butter) and chopped chocolate in a medium sized heat proof bowl. Place the bowl over a pot of simmering water (making sure that the bottom of the bowl does not otuch the water). Stir until the chocolate has completely melted. Remove the bowl from over the boiling water, let mixture sit for a few minutes.
In the meantime, in a large bowl mix sugar, vanilla, espresso powder (if using) and eggs (or flax eggs or egg whites). Whisk until pale and thick.Pour the melted chocolate into the egg mixture. Whisk until batter is smooth. Add the protein powder mixture all at once and stir by hand until all the dry ingredients are incorporated into the wet ingredients and no flour is visible.
Pour batter into the pan and bake for 30 minutes, until the center is firm and level with sides and a skewer inserted in the center comes out clean.
Let cool in pan.
CARBS - 20 GRAMS 
FATS - 11 GRAMS 
PROTEIN - 11 GRAMS 
CALORIES - 230
Salmon Piccata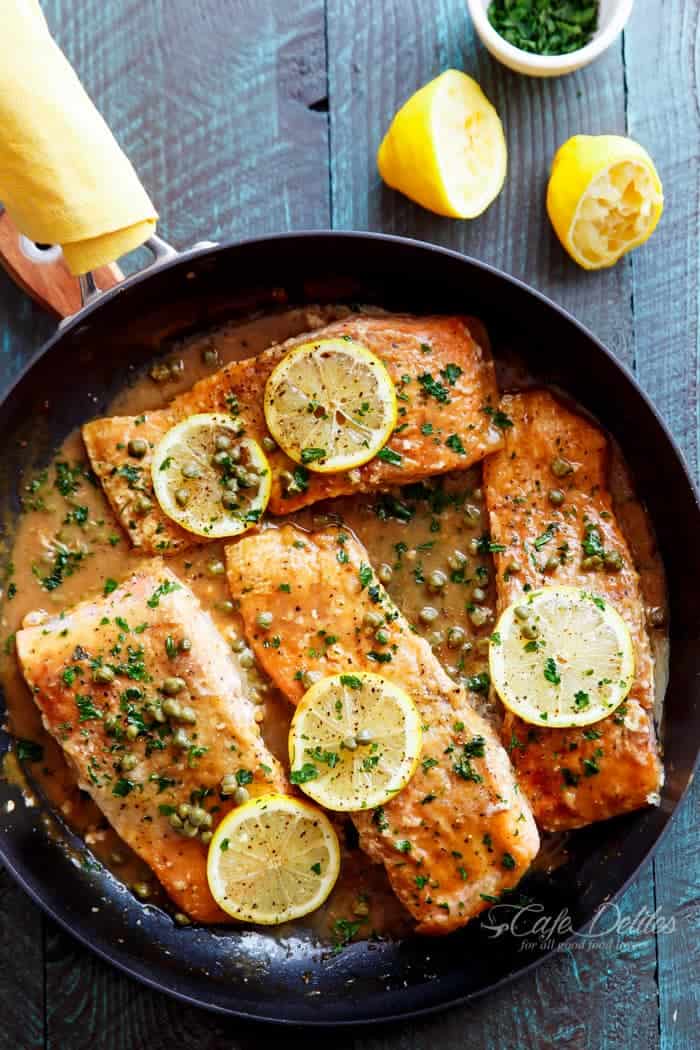 Ingredients
4 x 170g | 6 oz skinless salmon fillets

sea salt and lemon pepper (or black pepper), to taste

1/4 cup flour

2 tablespoons reduced fat butter or ghee (substitute with olive oil if you prefer)

1 tablespoon olive oil

4 medium garlic cloves , minced

1/3 cup dry white wine (optional. Replace with extra broth, but the wine adds amazing flavour!)

1 cup low-sodium chicken stock/broth (fat free if you can find it)

1 heaping teaspoon cornstarch (or corn flour)

3 tablespoons fresh lemon juice

4 tablespoons rinsed and drained capers

2-4 tablespoons coarsely chopped parsley , to serve

Lemon slices , to serve
Instructions
Season both sides of salmon fillets evenly with salt and pepper. Add 1/4 cup of the flour to a shallow dish; dredge the salmon in the flour to evenly coat. Shake off excess.

Melt 1 tablespoon of butter in a large nonstick pan or skillet over medium-high heat. Add 1 tablespoon oil and swirl to mix through the butter. Add salmon; sauté 4 minutes on each side or until just cooked to your liking. Transfer salmon to a warm plate; tent with foil and set aside.

Add remaining 1 tablespoon butter (or oil) to pan and melt. Add the garlic; sauté for a further minute until fragrant. Add wine; bring to a boil scraping any browned bits off of the bottom of the pan. Cook until liquid almost evaporates, stirring occasionally. Add 3/4 cup stock/broth to the pan along with the lemon juice; bring to a boil and cook for a further 3 minutes.

Mix the cornstarch (or cornflour) with the reserved 1/4 cup stock/broth, whisking well to combine. Pour the mixture into the pan, stirring through the liquid to create a sauce. Cook for 1 minute or until slightly thickened. Remove from heat; stir capers through the sauce. Place the salmon fillets back into the pan, gently turning each fillet to evenly coat in the sauce. Sprinkle with chopped parsley and extra pepper. Serve immediately over rice, pasta or vegetables of choice.
Ingredients
1 cup old-fashioned rolled oats
1/2 cup quick oats
3 scoops chocolate whey protein powder
1/2 cup organic brown rice crisps cereal
1/4 cup honey
1/3 cup peanut butter
1 teaspoon vanilla extract
1-2 tablespoon non-dairy chocolate chips
Preparation
1.       Line a 9Ч5" loaf pan with parchment paper or lightly grease with cooking spray.
2.       Place rolled oats in food processor and pulse until oats are a flour consistency.
3.       In a medium bowl, mix processed rolled oats with quick oats, protein powder, and cereal.
4.       In a small pan over medium heat, stir honey and peanut butter until melted and combined. Remove from heat and stir in vanilla extract. Pour peanut butter mixture over oats. Stir well.
5.       Using hands, press mixture into prepared loaf pan.
6.       In microwave, melt chocolate chips for 1 minute, and then 30-second intervals stirring in between, until fully melted. Use a fork to drizzle chocolate over bars.
7.       Let cool in refrigerator for 30 minutes before slicing into 12 bars.
Ingredients
3 (8 inch) plain or whole wheat flour tortillas
1 tablespoon butter, melted
2 teaspoons sugar
⅛ teaspoon ground cinnamon
¾ cup fat-free or light dairy sour cream
¾ cup frozen light whipped dessert topping, thawed
1 teaspoon vanilla
⅛ teaspoon ground cinnamon
3 cups fresh raspberries and/or blackberries
2 tablespoons sliced almonds, toasted
1 tablespoon grated semisweet chocolate
Preparation
1. Preheat oven to 400°F. In a small bowl, stir together sour cream, dessert topping, vanilla, and ⅛ teaspoon cinnamon. Cover and chill while preparing tortillas.
2. Lightly brush both sides of each tortilla with melted butter. In a small bowl, stir together sugar and ⅛ teaspoon cinnamon; sprinkle over tortillas. Cut each tortilla into 8 wedges; arrange on two ungreased baking sheets. Bake for 8 to 10 minutes or until crisp. cool Completely.
3. To serve, divide tortilla wedges among six dessert plates. Top with raspberries and/or blackberries and sour cream mixture. Sprinkle with almonds and grated chocolate.
Chile Verde, usually a slow-cooked stew of pork, jalapeños and tomatillos, becomes an easy weeknight meal with quick-cooking beef mince and store-bought green salsa. Make it a Meal: Serve with fresh coriander, red onion and Monterey Jack cheese. Serve with rice or sourdough.
Preparation 20 mins, Ready in 30 mins (4 servings)
Ingredients
1 lb lean beef mince
1 large red capsicum, chopped
1 large onion, chopped
6 cloves garlic, chopped
1 tablespoon chilli powder
2 teaspoons ground cumin
¼ teaspoon cayenne pepper, or to taste
1 16-ounce jar green salsa, green enchilada sauce or taco sauce
¼ cup water
1 small can kidney beans, rinsed
Method
Cook beef, capsicum and onion in a large saucepan over medium heat, crumbling the meat with a wooden spoon, until the meat is browned, 8 to 10 minutes. Add garlic, chilli powder, cumin and cayenne; cook until fragrant, about 15 seconds. Stir in salsa (or sauce) and water; bring to a simmer. Reduce heat to medium-low, cover and cook, stirring occasionally, until the vegetables are tender, 10 to 15 minutes. Stir in beans and cook until heated through, about 1 minute.
Make Ahead Tip: Cover and refrigerate for up to 3 days. Reheat just before serving.
Nutrition information
·         Serving size: 1½ cups
·         Per serving: 379 calories; 12 g fat(4 g sat); 6 g fiber; 29 g carbohydrates; 36 g protein; 75 mcg folate; 87 mg cholesterol; 8 g sugars; 0 g added sugars; 1,936 IU vitamin A; 57 mg vitamin C; 80 mg calcium; 5 mg iron; 682 mg sodium; 774 mg potassium
·         Nutrition Bonus: Vitamin C (95% daily value), Vitamin A (39% dv), Iron (28% dv) 
Subscribe to the Magazine
Limited time 3-for-1 deal!Get a full year of EatingWell®, Rachael Ray Every Day™ and Shape® for just $11.
Fresh or frozen raspberries work equally well in this quick raspberry and chocolate terrine recipe made with low-fat frozen yogurt. Don't worry about getting the layers perfectly even in this dessert terrine—the unevenness makes each slice look unique.
Ingredients 8 servings
1⅓ cups raspberries, fresh or frozen (thawed), plus more for garnish 
2 tablespoons unsweetened cocoa powder
2 Serves
15 min prep time
60 min cooking
272 Cal / serve
Ingredients
2 Fresh Beetroot, scrubbed & trimmed
200g Pumpkin, peeled and cut into 2cm thick wedges
1g Olive Oil Spray
2 x 100g Lean Beef Fillets
3g Ginger, finely grated
160g Baby Spinach
2 tablespoons Orange Juice
Method
1. Preheat oven to 200°C. Wrap beetroot in foil and place on a baking tray. Roast for 30 minutes.
2. Add pumpkin to tray. Spray with oil and season with freshly ground black pepper. Bake until pumpkin is light golden and tender, about 30 minutes. Slip skin off beetroot and cut into wedges.
3. Heat a large frying pan over medium-high heat. Spray steaks with oil and season with pepper. Add to pan and cook to your liking, or about 2-3 minutes each side for medium.
4. Spray a large saucepan with oil and heat over medium-high heat. Add ginger and cook, stirring, until soft, about 30 seconds. Add spinach and juice. Cook, stirring, until spinach just starts to wilt, about 1-2 minutes.
5. Divide beetroot, pumpkin, and spinach between plates. Top with steaks to serve.
It is an exciting day when we can eat a Muffin for breakfast!  But this is no typical muffin.  It is low in calories and good for you.
Ingredients
470g – shredded potato
Spices/seasonings of choice
180 mL egg white
170g low fat/fat free cheese
45g red capsicum
15g cooked diced ham
Method
Preheat oven to 205 degrees C
Spray muffin tray with non-stick cooking spray
Distribute and line 12 muffin tins with shredded potato
Lightly spray shredded potato with cooking spray
Season potato to taste (I use garlic, onion powder and cayenne pepper for a kick).
Brown potato in oven for 10-12 minutes
Add egg whites, cheese, capsicum and ham into mixing bowl, stir well (like scrambling eggs).
Distribute mixture evenly through shredded potato cups
Cook for a further 13-15 minutes in the oven 
Note: Feel free to opt for regular cheese, eggs or bacon, please be aware this will increase the protein, fat and carbohydrate content.
Ingredients:
-1/2 cup natural peanut butter (use smooth or crunchy, depending on the texture you like in your chocolates! - 125g
-1/4 cup unsweetened cocoa powder - 20g
-1/2 cup organic coconut oil - 110g
-2 scoops chocolate protein powder of your choice - 45g
-1 Tbsp. Honey - 40g
-1 tsp. Vanilla extract
-12 drops Stevia liquid
Method:
Ideally you will use a mini-muffin pan (24) for this recipe as it is the most stable way of making them, however you can use a flat tray with mini muffin liner doubled up to give them more rigidity.
1. Prepare your muffin tray with 24 liners and then set aside ready for use.
2. Blend all the ingredients together in a food processor until smooth.
3. Use a spoon to help evenly separate the mixture into each muffin liner.
4. Place in the refrigerator for at least 45 minutes so that they set. Then store keep them stored in the fridge, in an airtight container.
5. ENJOY!
Here's a quick and simple breakfast for those of us in a rush!
What you'll need
1 large firm ripe avocado, stone removed, peeled, diced

250g cherry tomatoes, halved

1/4 cup fresh basil leaves, torn 

2 teaspoons olive oil 

1 teaspoon lemon juice 

4 large slices sour dough bread 

Lemon wedges, to serve 
What to do;
1. Place avocado, tomatoes, basil, olive oil and lemon juice in a medium size bowl. Season with sea salt and freshly ground black pepper. Gently stir to combine.
2. Toast or grill bread until golden. To serve, spoon ¼ of the avocado mixture over each slice of bread. Serve with a wedge of lemon.
Nutrition
Energy 1125kJ
Fat saturated 3.50g
Fat Total 16.00g
Carbohydrate sugars 2.00g
Carbohydrate Total 25.00g
Dietary Fibre 3.50g
Protein 5.50g
Sodium 280.00mg